Hydrogen peroxide 6-log sterilization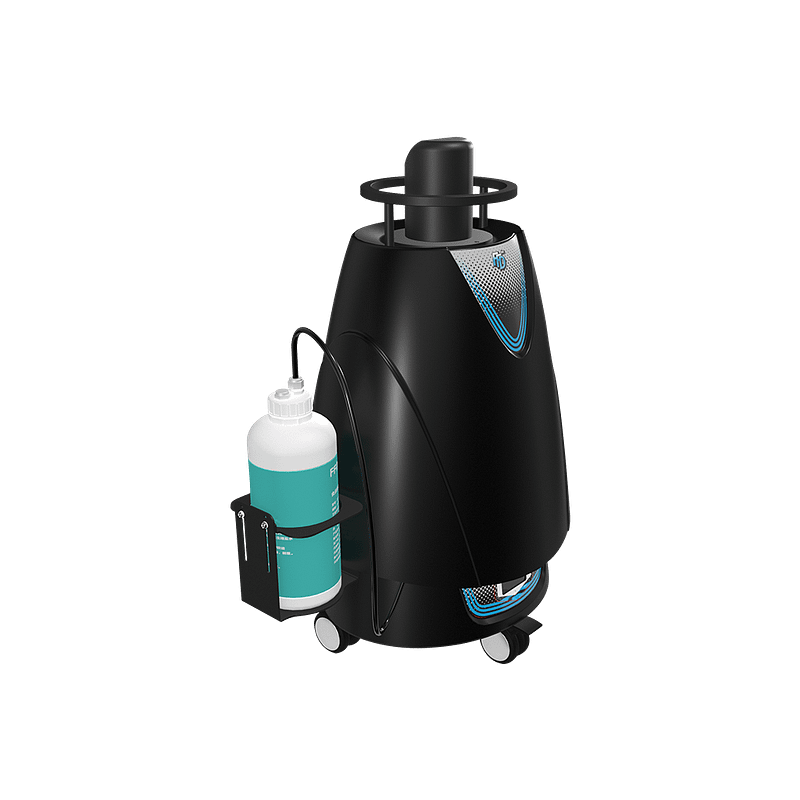 Hydrogen peroxide fogging , dry mist , evaporation system
Best choice For Multi Resistance Pathogen And 360° Disinfection
Only one click , 6-log bacillus stearothermophilus reduction
Is the perfect choice for Pharmaceuticals , Hospitals ,Ambulances and laboratories and all business locations that require 6-log reduction and no corruption to environment and device renting service. Built using ionized hydrogen peroxide technology and IOT remote control and monitor system and AI calculation , it can decontaminate big volume with one click. 
When used in the FFD IOT Decontamination System , multi devices can be automated for bigger volume , real-time disinfection result validation , H2O2 catalyzation and high hygiene air maintaining.
Bacillus Stearothermophilus 6 Log decontamination
One cycle , air & objects disinfected
Only 9.8 ml / m3 consumption for Log 6 with 7.5% H2O2
No hazardous chemicals storage, safer operation                                                                        
80m /s vent diffuse gas phase around much bigger space with external liquid adding system
Ionized H2O2   and 7.5% H2O2  make disinfection with corruption free      
A professional disinfection cycle needs only one click
No droplets and fog disinfection procedure , keeping things dry and safe
Ionized Hydrogen Peroxide Technology
The combination of Hydrogen Peroxide with the atmospheric cold plasma arc guarantees that the VHP acts directly on the unsaturated fatty acids in the bacterial cell membranes, thus an oxidation reaction of the lipids occurs, destroying the cell membrane , killing bacteria and fungus. Reactive oxygen free radicals and negative ions also cause oxidative damage to RNA and DNA avoiding what could be antibiotic resistance. Damaged DNA undergoes breaks, mutations, changes in thermal stability, thus adversely affecting the genetic composition and thus eliminating the pathogen.
With Smart 1000 the peroxide is atomized with a unique and proprietary system, using a mix of pressure, air speed, temperature and expanding surface , which allow a capacity to vaporize at the nanometric level and distribute it with the air flow of 60-80 m/s evenly over the entire surface and air to deal. The atomization level allows to create gasified peroxide particles at molecules (0.4 nm) that do not release droplets and do not damage the equipment and surrounding material. Log 6 of pathogen reduction are guaranteed within 500 m3
Real Time Status Monitoring
Connected to FFD cloud by wireless or wire can be monitored the working status on your smart phone , even though you are in another side of the world.
Intelligent Disinfection Cycle
For making a professional disinfection cycle ,you just need to input the volume of the space and log of decontamination level , all the settings will be done by FFD cloud.
Devices Wireless Automation
If you want to start multi devices together or a complicated cycle as Disinfection diffusor , Sensor and catalyzer in progress and you don't know how to set , leave it to FFD cloud.
Report In Jpg
If your disinfection cycles need to be tracked in the future or you need to show them to your client ,select automatic mode , a report with all cycle details will be generated by system.
Multi Manage Level
With the multi level function , you just need a master account and share your devices to the user-account , you can control and monitor all the devices shared .The user accounts can only operate the their own shared devices.
Renting Mode
If you want to rent disinfection machines to the customers but afraid of losing control , try renting mode , after the renting time you have set , without your authorization the device will be blocked.
Max disinfectant flow rate