Fast and Free Residue , Decontamination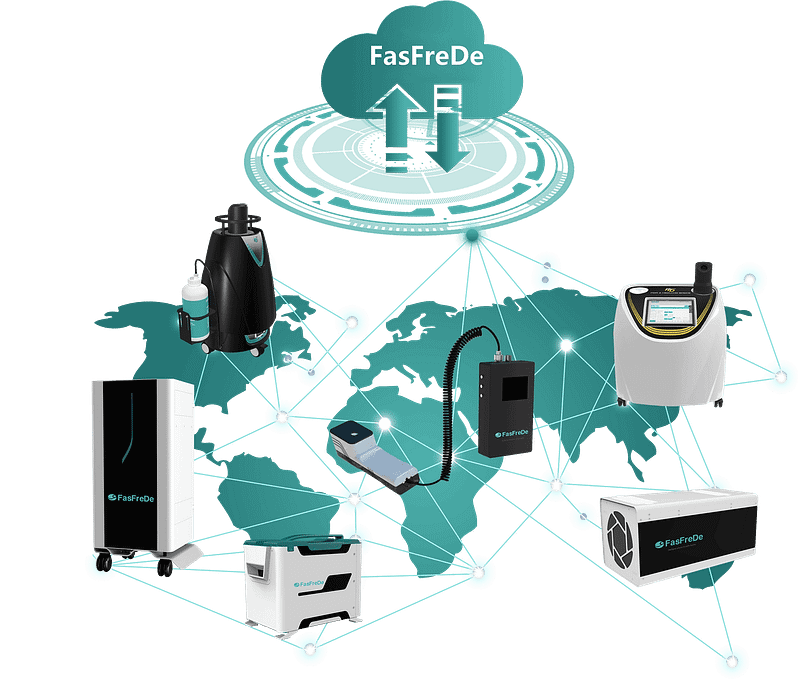 One Stop Decontamination Solution
Full automatic atomization decontamination systems
Air purification systems ,
Air duct disinfection systems 
Water disinfection systems
Broad spectrum disinfection by hydrogen peroxide dry mist or evaporation
High Level decontamination up to 6-log biological reduction
We use FasFreDe dry mist , evaporation equipment to atomize hydrogen peroxide solution of 7.4% to sub micron size particles or vapour phase . The atomized hydrogen peroxide get spread automatically in the areas by the high speed turbine  , reaching the toughest spots and goes much farthur beyond manual cleaning and other disinfection methods.
Air disinfection with people presence
Aspire the indoor air in a Channel , Inactive the air contained pathogens in  Channel  , Exaust the clean air into indoor
There are various pollutants as VOC , TVOC , allergens , PM 2.5 and pathogens in the indoor air that we breath everyday  , we need to decontaminate them to a safe value . Fasfrede use the tunnel system that is equipped inside the tunnel high capacity plasma generator , UVA and photocatalyst ,  all the decontamination process are inside the tunnel , when the air exaust from the tunnel ,will be filtred by a catalyst filter ,  no harmful materials will be exausted out .
Full time air supply purification and sanitization
Make the air clean before blow out from air duct 
A dirty air duct is polluted by allergens, bacteria, fungi, dust, dust mites, mold, and other organisms ,  but always out people's health concern . It is becoming major source of indoor air pollution .We use easy installation plasma generation station to purify the environment in the duct ,  plasma station generates millions of radical oxygen species in the duct , these particles can effectively decontaminate the pollutants in the air before blow out in the indoor space .