High light power UVC LED surface disinfection unit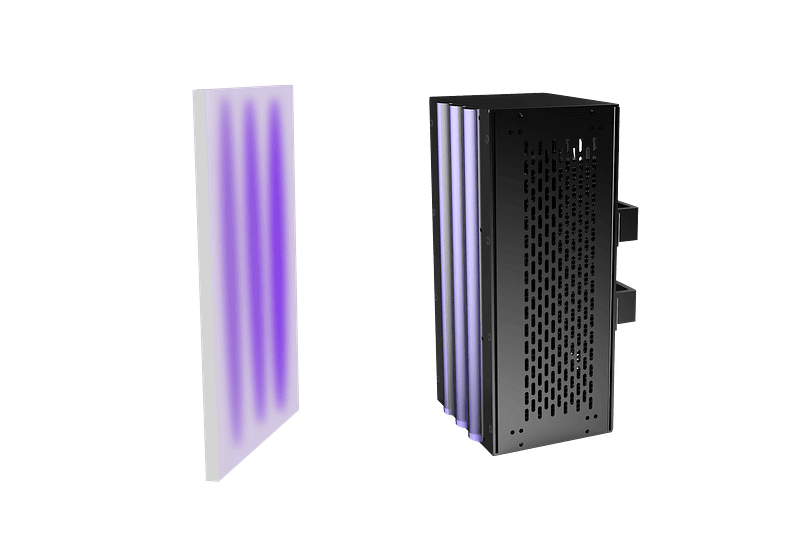 High power UVC LED Surface disinfection unit
If you want to disinfect surface of moving things , M120 is the best choice
M120 offers super rapid disinfection and sterilization for moving objects .Its proprietary convex spot light system provides a reliable and consistent disinfection combined with logistics conveyor belts, robotic arms , slide rails etc , thanks to this system all the lighting source are focused only on 3 belts that cover the surface of items ,without wasting light energy and lighting on human body .During the disinfection process the unit does not produce ozone and other harmful substances in the environment  . 
As a disinfecting module, M120 fully considers the convenience of installation. The module is fixed in 2 minutes. It uses a conventional 24V power supply and has its own cooling system, no redesign is required.
Suggested lighting distance
Ideal for installations with small space
 non preheat needed ,start with full-load power
Unaccountable heat transfer can be a costly and cumbersome issue that could lead to the surface and equipment becoming damaged and no longer fit for purpose.
There is no incandescent tube that is easy broken                                                                                
light power in 50 cm is 6760uw/cm² , COVID disinfection in 1 second needs 4500 uw/c㎡ 
During the disinfection process , no ozone produced
mercury removed , using energy-efficient LEDs to produce UV-C light in a controlled and self-contained system.
All the lighting source are focused only on 3 belts that cover the surface of items