Hongkong Central goverment-aided emergency hospital disinfection solution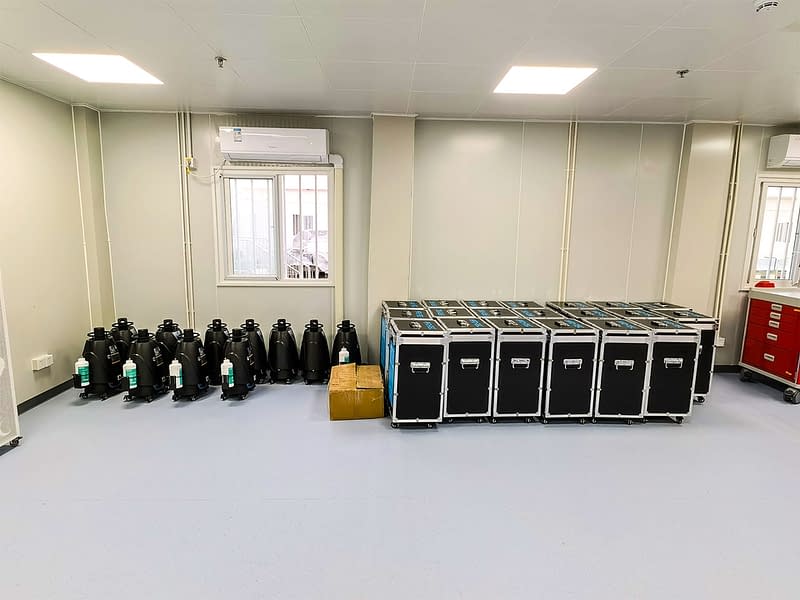 17 May 2022 , We FasFreDe as the disinfection solution provider , the last 20  Smart 1000 were delivered to the central goverment-aided emergency hospital at Hongkong .
Smart 1000 is our flagship product in hydrogen peroxide 6-log disinfection series ,  that is super easy for users with high decontamination efficiency agains covid-19 , it is selected as the disinfection unit for central goverment-aided emergency hospital because that Smart 1000 is the only machine in the market that permitts cluster control .In the mobile cabin hospital , cluster control disinfection system is very important .
Cluster control disinfection system: 
Multi devices can be operated by one control pannel , so that all the disinfection missions can be standardized in the complicated situation  ,beyond that for the super big cabin , the hospital can control multi devices with only one click .
Why Smart 1000 is the best choice for mobile cabin hospital disinfection ? 
Broad-spectrum pathogen disinfection   : Smart 1000 use hydrogen peroxide as disinfectant and spray out the ionized hydrogen peroxide , the ionized hydrogen peroxide can kill the most hard-to-kill pathogen Prion . Mobile cabin are always constructed for the pandemic emergency .
No dead angle disinfection  : The disinfectant sprayed out can be evaporated in the gas phase , so no dead angle will be left after disinfection cycle.
Cluster control system :  As there are many cabins , and the people come in and out very frequently , with the cluster control system , when a cabin is reported empty , device user con begin the single cabin's disinfection cycle in the office , without going inside .