Fast and Free Residue , Decontamination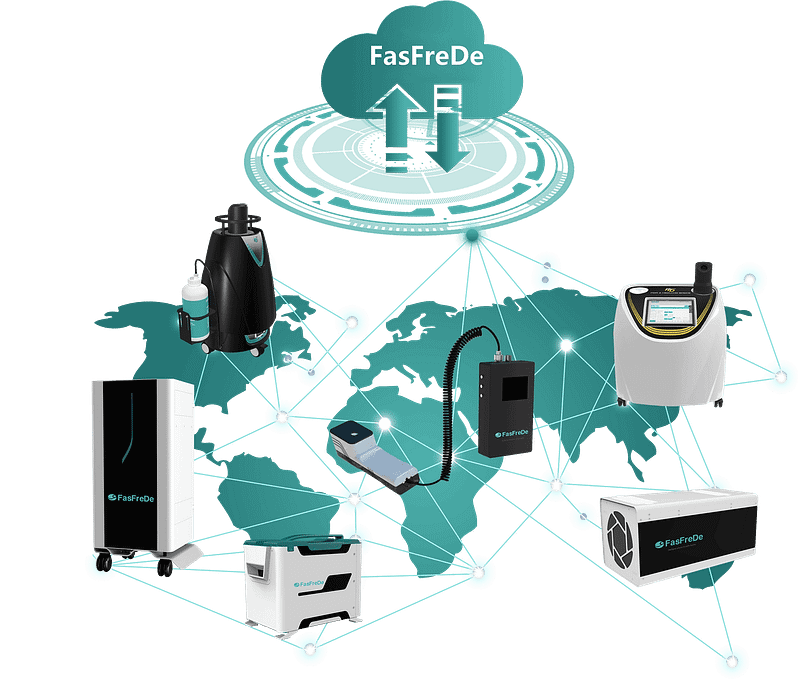 One Stop Decontamination Solution
Full automatic atomization decontamination systems
Air purification systems ,
Air duct disinfection systems 
Water disinfection systems
FasFreDe intelligent disinfection system
FasFreDe intelligent disinfection system is a program installed on the server for no touch automated disinfection and validation process , disinfection machine management and disinfector management .
The connection among the cloud , disinfection devices and operators is by 4G or Wifi . Operators use APP (Android / IOS)  or webpage to control and monitor the disinfection devices and the cloud can validate disinfection result and disinfectant quality , generate disinfection cycle report , storage historical data and manage disinfectant purchasing order . 
This system can be used for iOT automated disinfection process monitor and control , disinfection machine renting management and disinfector management . 
Thanks to our partners long time experience in disinfection service using hydrogen peroxide , together with FasFreDe we have installed the optimized multi level disinfection  protocol on the system , that allows the operators perform a 6-log biological reduction by one click .  From disinfectant nebulization and diffusion to disinfectant catylization and high hygiene level maintaning , all the detailed actions in the process get done automatically controlled by the cloud . 
You can also use this system for disinfection machine renting ,  under the renting mode you can monitor how many disinfectant used , if the machine needs maintenance service , and block the machine from your computer .
FasFreDe disinfector management system is developed to guarantee the disinfection result , standrize disinfection process .
 The renting system is specially developed for the disinfectant providers who get profit mainly from disinfectants sales .
Only one click ,achieve a 6-Log disinfection process including disinfectant diffusion , pathogen contact , disinfectant catalyzing