Customizeble disinfectant dry fog machine
Fast and Free Residue , Decontamination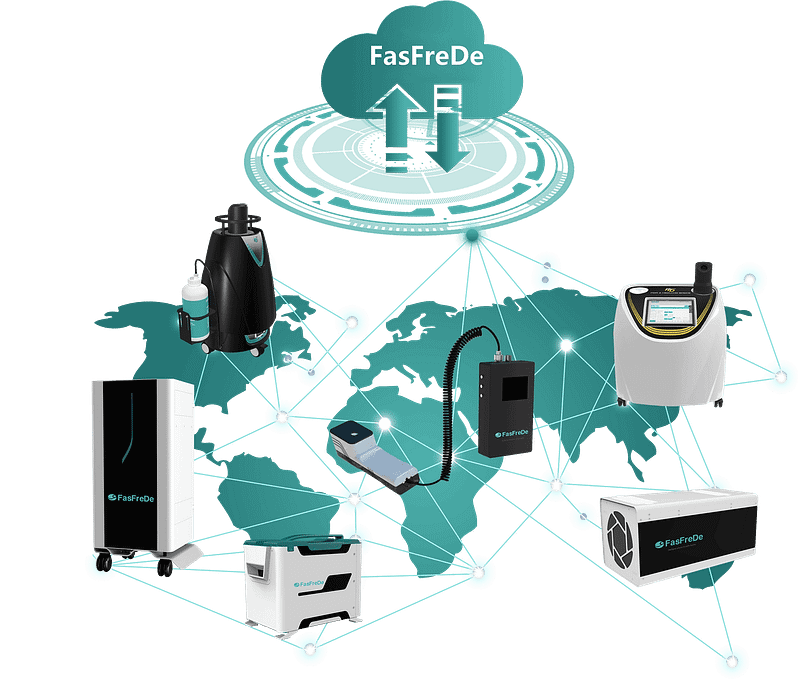 One Stop Decontamination Solution
Full automatic atomization decontamination systems
Air purification systems ,
Air duct disinfection systems 
Water disinfection systems
Private lable dry fog device with customized design and FasFreDe proprietary atomization system
FasFreDe system , disinfectant is atomized with a unique and proprietary system, using a mix of pressure, air speed, temperature and expanding surface , which allow a capacity to vaporize at the nanometric level and distribute it with the air flow of 80m/s evenly over the entire surface and air to deal. The atomization level allows to create gasified disinfectant particles at molecules (0.4 nm) that do not release droplets and do not damage the equipment and surrounding material. Log 6 of pathogen reduction are guaranteed within 500 m3
No touch , dry fog , customizable , disinfection machine
By using our mature , proprietary atomization system  , we provide multi disinfectant fogging , dry fog ( dry mist ) and evaporation machine with different design for customizable product .
High air supply power by turbine  + High precision regulatable disinfectant supply by peristaltic 
By regulating the disinfectant supply quantity , air speed and temperature this system makes different atomization effect with the same mechanism
Fogging :  spray 1500 ml/h – 6000 ml disinfectant per hour , particles sprayed out from 30-150 micron .
Dry mist ( dry fog ) :spray 500 ml/h – 1500 ml disinfectant per hour , particles sprayed out from 0.5-30 micron .
Evaportation :spray 50 ml/h – 500 ml disinfectant per hour , particles sprayed out sub micron .
Why we make 3 atomization mode in one machine ?
In a professional disinfection process , we need to considerate various elements : 
Surface , air or no dead-angle  decontamination  : For a no dead-angle decontamination , evaporation is the best choice for covering all the angles , air and surface .
The material in the environment : If there are active materials in the space , the corrossion is the most important feature to considerate ,if  the disinfectant is corrosive , it should be atomized in dry fog or vapour .
How much time for disinfection and disinfectant catalyzing : If the disinfection time is short , and the materials are no-corrosive , we can use the fogging mode for a rapid covering of the indoor surfaces .
What disinfectant used : Some disinfectant changes the chemical and phisical characteristics in fog or vapour phase .
We have developped 3 ready to use controls systems for different applications :