Fast and Free Residue , Decontamination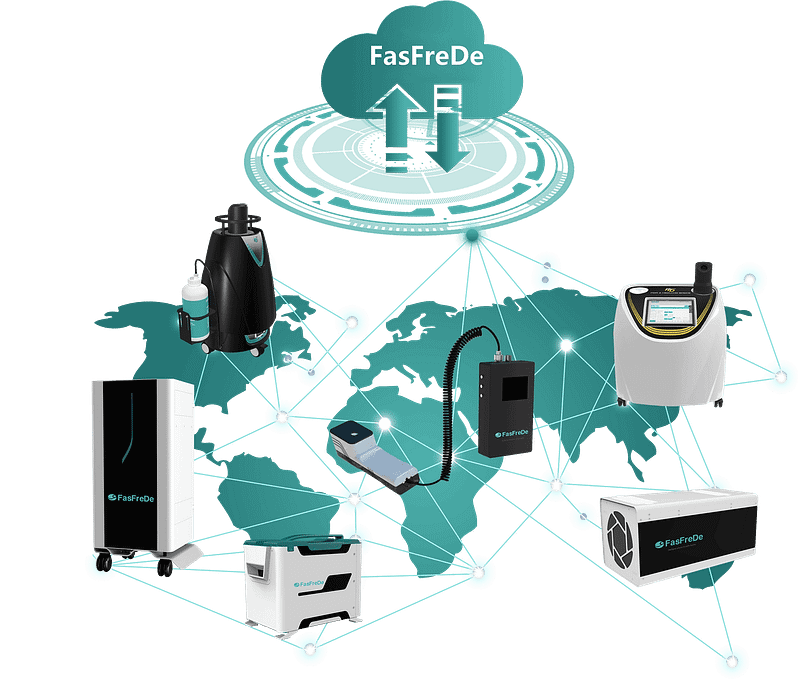 One Stop Decontamination Solution
Full automatic atomization decontamination systems
Air purification systems 
Air duct disinfection systems 
Water disinfection systems
Is the best choice for small halls, hair solon, restaurants, hotels, offices, wards and other small and all the small-medium-sized public spaces . Using the combination of low-pressure plasma sterilization technology and UVA sterilization technology , with a big air flow of 1200m³/h  , Tunnel 500 can eliminates VOC, TVOC, pathogens and other harmful substances in the air without affecting human health.
Is the perfect choice for Pharmaceuticals , Hospitals ,Ambulances and bio laboratories and all business locations that require 6 logs disinfection result and no corruption to environment and device renting service. Using ionized dry fog hydrogen peroxide technology and IOT remote control and monitor system and AI calculation , 
It is an indispensable monitoring instrument in the dry-mist H2O2 and VHP disinfection process to monitor the progress and determine whether the hydrogen peroxide concentration in the space is  safe to humans. Built with high-sensitivity electrochemical hydrogen peroxide sensor, IOT technology and  artificial intelligence calculation , which can detect the hydrogen peroxide
As we all know, each industry has different requirement for disinfection.
Public transportation , air disinfection with people inside ;
Intensive care unit of a hospital , drug-resistance pathogen effective disinfection with no dead angle;
Pharmaceutic GMP , 6-log reduction reproducible with bacillus stearothermophilus ;
…
Thanks to our long-time experience in disinfection device manufacture and development , we are capable to provide industry specific disinfection solution for multi industries , from a small laboratory to a big airport .
Dry fog , Evaporation Disinfection device
Specialized design for high corrosive disinfectant as :
Hydrogen Peroxide , Hypochlorous Acid ,Chlorine Dioxide 
6-Log Biological Reduction
This series are designed for 6-Log required disinfection , we suggest to use 7.8 % hydrogen peroxide .It is the best choice for infectin emergency treatment , space sterilization and high-resistance microorganism decontamination .  
Air biological , physical and chemical decontamination device
Decontamination process does not exhaust harmful materials out of the machine 
people can be present when machine working
5-Log Biological Reduction
This series are designed for high efficiency air decontamination using plasma and ionization technology .Keep the decontamination process in the tunnel for that no oxidative plasma and ions exhaust out the machine .
UV-C Led disinfection units
For water and super rapid surface disinfection , we use UV-C LED technology .
Make UV-C disinfection no fragile , no mercury, no heating transmission, no preheat system and smaller .
Our disinfection philosophy
Mesurable , disinfectant density should be measurable for avoiding waste and insufficient disinfection and guaranteeing the reproducible disinfection result 
Free toxic , disinfection should leave any toxic or harmful products in the environment 
Fast , disinfection should be done in correct time , long time disinfection can not prevent infection effectively
FasFreDe (Fast ,Free toxic ,Decontamination)located in Dongguan with 15 mechanical , electrical and software engineers , we are a company providing indoor air and surface decntamination solution.
We are divided in 3 deparments ,disinfection device manufacture ,  customized automatic disinfection solution service  and PADI(programmable automatic disinfection by Iot) software development .
In the past five years, we have been constantly exploring how to use a method that is simple enough for children to operate, so that every disinfection can completely kill pathogens without dead ends, thereby effectively controlling infection, without leaving risks to the environment and human health. So we have launched PAD, a digital disinfection system based on the Internet of Things and artificial intelligence. Through this system, a professional 6-log disinfection cycle without dead ends is as simple as turning on the TV . As of May 2022, we have provided this safe, effective and simple disinfection method to more than 100 medical and professional disinfection organizations in 34 countries around the world